Welcome to the Trimps Wiki
Trimps is a resource management, incremental game developed by GreenSatellite, where players control a society of impish creatures called Trimps. With them, the player must venture through zones and maps, defeating a plethora of bad guys in order to obtain loot and unlock upgrades to further their advancement as a society. A journey of conquest and discovery awaits you!
The latest patch is 5.5.1. Complete list of updates available here!
The game is completely open-source. Click on the external links to either play on Kongregate or the main Trimps site, check out the source code for the game, or participate on discussions on Reddit or Discord.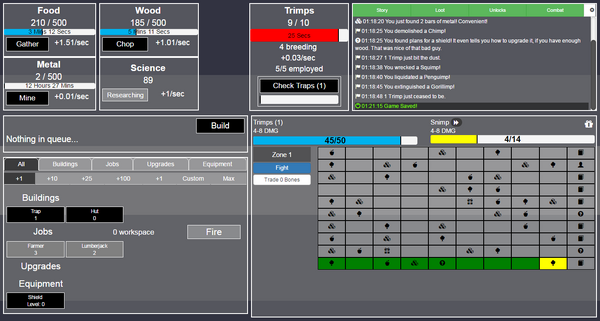 Become a contributor!
Hi! Trimps is a game that receives frequent updates, thus this wiki requires frequent maintaining. Check out the To do List.
If you're interested in being an active contributor, or just want to know our few guidelines, here are a few things you can look at. It would be of great help if you could follow these guidelines.
Add hyperlinks to common keywords which have their corresponding pages.
Use correct punctuation and grammar.
If you're writing a guide, follow and acknowledge the guide posting rules.
Linking to external documents in pages (not sources, but user made documents) is prohibited and may get your source removed from the page. This is because these are impossible to track for changes from the wikia's environment. These are still okay in comments, however.