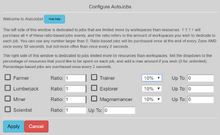 AutoJobs is unlocked via Bionic Wonderland II at Zone 140 (as of 5.3.0) and unlocks the Job Automator, allowing you to purchase jobs automatically. You can configure the number of Trimps assigned to each job, or have it hire up to a % of your currently available resources.

In addition, you can also configure it to automatically start gathering either Food, Wood, Metal or Science on each Portal, thereby saving some time.
Trivia
[
]
Before patch 5.3 AutoJobs was a Level 4 Mastery.